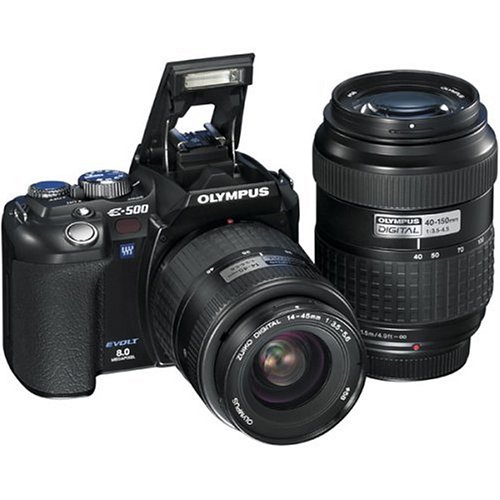 Olympus Evolt E500 8 MP Digital SLR
Product Description:
• 8-megapixel CCD captures enough detail for photo-quality 16 x 22-inch prints
• 2.5-inch HyperCrystal LCD display; 5 metering modes and built-in filters, including nine filters for black-and-white photography
• Exclusive dust-free technology for spot-free photos
• Lightweight ergonomic design; kit includes one 14-45mm f3.5-5.6 and one 40-150mm f3.5-4.5 Zuiko lens
• Powered by one lithium-ion battery; stores images on CF, Micro Drive, or xD Picture Cards
• TruePic Turbo for Clarity and Speed
• Easy-to-Use, Easy-to-Handle Light and Ergonomic Design
• 5 Metering Modes
• 3 Color Modes: Vivid/Natural/Muted
• A Choice of Two Color Space Settings
• 9 Black and White Modes
• Dual Card Slots
• Support for High-Speed and High-Capacity Memory Media
• Simultaneous RAW and JPEG Image Recording
• Contrast, Sharpness, and Tone Curve Controls
• White Balance
This digital SLR is very comfortable to handle and also give premium picture quality and superb performance. It has advanced controls and options that can be accessed with minimal effort. the EVOLT E-500 is tailor-made for anyone to use while capturing the imagination in the process. Patented Dust Reduction System uses our Supersonic Wave Filter (SWF) to loosen and remove any and all dust and debris from the image sensor. The SWF vibrates at a rate of 35,000 times per second upon start-up as well as when manually activated – and is unnoticeable to the user – for clear, aberration-free images. This removal of dust also means you never have to worry about changing lenses Exercise total control with creative modes like Program, Aperture Priority, Shutter Priority, and Manual Auto/Manual Focus Automatic pop-up flash provides just the right amount of illumination when necessary and remains out of the way (closed) when not PictBridge compatible Dimensions 5 x 3.7 x 2.6 inch / 15.75 ounces body only Rechargeable Li-ion battery Pack BLM-1/3x CR123A wi0th LBH-1 PC and Mac.
Technical Details:
Item Dimensions: 3.74 x 2.6 x 5.12 inches
Item Weight: 1.06 pounds
Lens Type: Zoom
Optical Sensor Resolution: 8 MP
Optical Zoom: 3.2x
Viewfinder Magnification: 0.9x
Viewfinder Type: Optical
Compatible Mounting: Four Thirds
Review:
This camera is an excellent value – 8 megapixels and packed with features, including the wonderful supersonic wave filter (which removes dust from the digital sensor). The camera is quite responsive and you will not notice any shutter delay. This camera is quite user friendly, easy to use and control. It is of comfortable size and fairly light in weight even with a zoom lens on. While the camera is light in weight the materials used do not feel cheap and it fits well in your hand. Auto focus works well in every condition. Images will be well exposed and colour reproduction will also be very realistic. The camera has better pixel count and image stabilization. The camera has an excellent low light performance also has great ISO controls which provides the ability to limit ISO range and still use auto ISO mode. This DSLR has just as many features to produce excellent pictures.