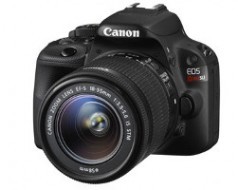 The Canon SL1 is one of the best DSLR camera with small and light body in the DSLR category. But the small size does not have any impact on the performance of this dslr camera. It is integrated with 18 mega pixel CMOS sensor and high speed DIGIC 5 image processor from Canon that provide extreme quality of images and videos. The DSLR provide very easy user interface that is the best thing if you are not aware about the complex functionality of these cameras. The 4 FPS (frames per second) continuous shooting results in sharp and accurate images of the moving objects. Let us have a glance as its enormous features:
18 Mega Pixel CMOS (APS – C) sensor: The EOS Rebel SL1 is featured with a new Canon 18.0 MP CMOS (Complementary Metal Oxide Semiconductor) sensor with in light weight and small body design. The sensor works perfectly for the expansions and cropping of detailed portions of images. The extreme performance sensor captures the images with amazing clarity and detailed sharpening.
DIGIC 5 image processor: The Canon SL1's DIGIC 5 Image Processor is coupled with CMOS sensor that delivers high definition images with ridiculous details according to the situations, without using the artificial light sources. The high ISO sensitivity of 4.0 FPS is result of the extreme quality DIGIC 5 image processor.
Small size light weight body: The DSLR's are always best choice for the high quality images but one of the pros is their heavy and bulky size but the Canon EOS Rebel SL1 incorporates small body with light weight just 0.9 pounds that you can easily hold without much efforts.
Wide ISO range 100 – 25600: The wide ISO range enable the user to capture wonderful striking images even in low- light conditions. It provide ISO 100 – 12800 (expandable to H: 25600) for stills and ISO 100–6400 (expandable to H: 12800) for videos that makes shooting possible in the extreme situation where light is deficient.
4 FPS (frames per second continuous shooting speed): The EOS Rebel SL1 can shoot up to 4.0 frames per second at speeds up to 1/4000 second for approximately 7 consecutive raw files, that enable the user to capture rapid scenes of fast moving objects in an eased manner.
9 point AF system: The Canon Rebel Camera is compatible with 9-point AF system that includes a high – precision dual – cross centre point results in a fast and accurate autofocus performance while shooting with the view finder.
3 inch wide LCD monitor screen with touch AF: The DSLR is compatible with 3 inch wide LCD screen with 1,040,000 dot resolution that provides clear composition and playback viewing of the object even in bright light. The smudge-resistant coating works effectively to keep the monitor clean. The smart touch screen features multi-touch operation that provide direct access to the functions for the setting changes and provides touch autofocus. There are a variety of seven brightness levels are available for better viewing of object depending upon the lighting conditions.
0.87x Optical viewfinder: The 0.87x magnified optical viewfinder provide effective and substantial images while shooting in brightness. The viewfinder displays the exposure, AF, flash, plus other relevant image information right along with the image.
The other key features of this DSLR Camera are:
Special scene modes : Kids, Food and Candle light.
Video snapshot functionality.
Creative touch to add expressive look to your images.
Hybrid CMOS AF (auto focus).
GPS compatibility.
Full HD 1080/p videos.
EF-S 18-55mm IS STM lenses.
Technical Specifications:
Item dimensions: 3.58 x 2.72 x 4.61 inches.
Item weight: 0.9 pounds.
Optical zoom: 3.1x
ISO range: 100 – 25600.
Viewfinder type: Optical viewfinder.
Average Battery Life: 380 Photos per charge.
Optical Sensor technology: CMOS.
Optical Sensor resolution: 18 Mega Pixel.
Continuous shooting speed – 4 FPS.
Image Processor: Bionz X.
Continuous Shooting Speed: 11 FPS.
Review:
The Canon EOS Rebel SL1 is one of the Best DSLR Camera featured with 18 Mega-pixel APS – C CMOS sensor, DIGIC 5 image processor, Hybrid AF, smart shooting modes and such enormous feature with in light – weight Body design.