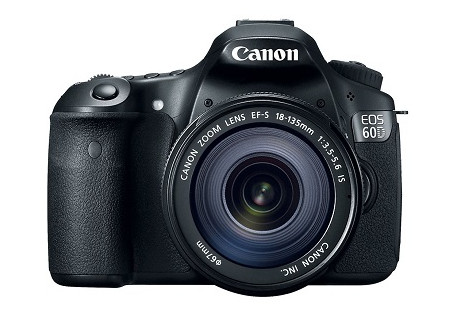 Canon EOS 60D Digital SLR Camera :
18MP APS-C CMOS sensor:
Canon EOS 60D is featured with 18 mega pixel APS-C CMOS sensor that enable the digital camera to capture high resolution images, It also facilitates to get the large dimension image just by cropping it and without loss of details and blur in pixels.
ISO Range up to 100-6400:
According to requirement you can use it in expandable form up to 12,800 with the help of custom function. The ISO feature ensure you that you can shoot in any type of light condition with the sharpest and finest detail. With the advanced high sensitivity optimization technology you can shoot your subject in a clear and crisp view with minimized blur and noise.
Continuous shooting up to 5.3 fps(Frames per second):
It's 5.3 Continuous shooting speed enables you to shoot even a single and brief detail of any moment that is recurring with a speedy and stunning way.
1080p high quality HD video:
Canon EOS 60D provide 1080 mega pixel HD quality video with manual controls that incorporates the fully utilization of Canon's EF lenses creative features.
9-point AF system:
The Canon EOS 60D is featured with 63-ZONE Dual Layer sophisticated design to support 9 Point AF system. By the combination of color and luminosity surrounding selected from the AF points this system provides enhance level of accuracy even in dim light conditions
Storage format includes SD / SDHC / SDXC storage rather than CF memory cards.
In-camera raw development that enable you to get clear and sharp images after storing even you shoot in any format.
In-camera Creative Filters to make special effects in the video or snaps.
Large display articulated clear view 3.0 inch TFT LCD screen with 1,040,000 dots.
Wireless Speed light control to Provide Support for optional infra-red remote release.
Technical Specifications:
Battery life – 1,100 photos per charge
Optical sensor resolution- 18 mega pixel
Photo Sensor Technology – CMOS
Processor Type – Digic 4
Viewfinder type :Optical
Item weight-1.66 pounds
Optical zoom- 7.5x
Item Dimensions – 5.7 x 3.1 x 4.2 inches
Review: With the launch of EOS 60D 18 MP Digital SLR Camera Canon aimed to provide such a powerful tool to the photographer which he is able to enhance creativity via using its manual controls along with high image quality. The advance technologies in this camera make it easy to use. It is coupled with APS-C sized 18 megapixel sensor, powerful 4 DIGIC image processor, along with 7.5x optical zoom that results in fabulous image quality with details. The upgraded ISO range enable photographer to snap tremendous images event in low- light condition that is not the nature of most of the Digital SLR cameras. It is a perfect DSLR camera for both beginner and professionals who are passionate about the photography.
Read more reviews at Amazon.com